Hai Tien Beach – travel tips and review
Blessed by the Mother Nature with pristine and natural beauty, Hai Tien beach is among favourite choices for many people on every holiday. Hai Tien beach is an ideal check-in point in summer for friends and families to indulge themselves as well as have a great time with many adventurous games.
1. Hai Tien beach
Hai Tien has a long beach with hidden wild and beautiful natural sceneries. Besides the blue sea, white sand, the sun and coconut or casuarina trees, the beach has been intelligently turned into a point for tourism. There are the luxury and modern infrastructures built up for the tourists, adding up to the poetic beauty of the area. Visit Hai Tien beach in summer to share comforting time with your family and friends.

2. What will you need?
According to my own travel experiences at Hai Tien beach (Thanh Hoa province), here are some of the things that you need to prepare for the trip:
- Clothing: Some cool and light pieces of cloth such as T-shirt, tank-top, shorts and skirts, etc. and a pair of flip-flop for a walk at night.
- Swimwear: swimwear and swimming glasses
- Personal items: towels, toothbrush and your normally used shampoo or shower cream (in cases you don't want to use the products provided by hotels)
- Q-tip: to clean your ears after swimming
- A broad hat to protect you from the sunlight
- Sun cream (for outdoor travel)
- First aid box: pills for a headache, fever, diarrhea, etc.
And don't forget to bring phone or camera to capture beautiful photos during the trip.
3. How to get from Hanoi to Hai Tien beach (ways of transport)?
- By car: Approximate time spent: 3 hours
From Hanoi, take the highway route Phap Van – Cau Gie – Ninh Binh (CT01). Continue to move about 82.5 km before reaching Nam Binh bridge (over Day river).
Go over the bridge, drive another 750m and then turn right.
Go straight for about 1.3km and turn left at Tran Nhan Tong street.
Continue to drive for 6.3 km, and you will reach the intersection with National Highway 1A. At the intersection, turn left to the Highway 1A.
Move along the highway about 51km (crossing the Tam Diep town, Bim Son town, Tao river bridge), and you will find the intersection of Highway 1A and 10. Turn left to the Highway 10.
Go straight for 12.3 km (via Road 6) before reaching Hai Tien beach.
The roads are quite spacious and easy for transport.
- By bus (Bus station is closed to Hai Tien beach): Cuong Linh Bus (Tel: 0904.643.142) departing four times a day from 9 am to 5 pm from Giap Bat Bus Station (Hanoi). This is a high-quality night bus. All you have to do is telling the driver your destination (Hai Tien beach), and the driver will drop you at the tourism area. Each time of extra miles like that will cost you 10,000 – 20,000 VND/ person. But if you are friendly, maybe you will get a free drive as the locals are very simple and hospitable. Travel to Hai Tien beach by bus is very convenient for anyone first-time visits here.
- By train: Approximate time spent: 4 – 4.5 hours. You can buy Hanoi – Thanh Hoa train ticket at Hanoi Railway Station (Add: 120 Le Duan St.; Tel: 0243.942.3697). From Thanh Hoa Railway Station, you can move to the hotel by Mai Linh taxi (for 20km) or catch the bus number 6, stop at Vuc market intersection and travel by taxi the remain miles.
4. Hotels
When staying at Hai Tien beach, you can either choose private villas or standard hotels with high-quality services such as:
- Queen Hotel
- Ánh Phương Hotel
- Paracel Resort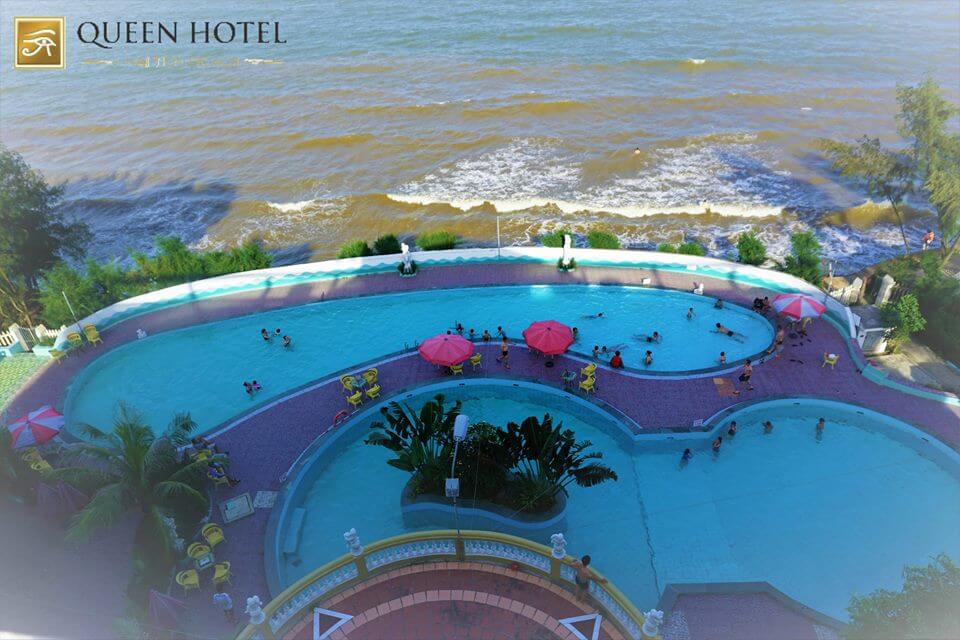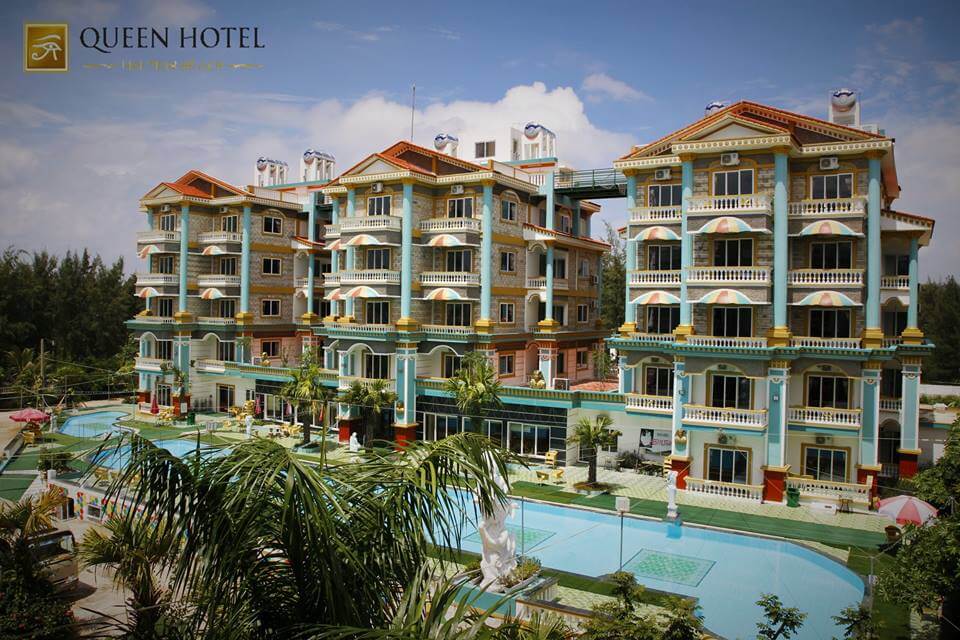 Situated in the middle of the pine forest with sea waves fluttering by the shore, Queen Hotel is located in Hai Tien beach (Hoang Hoa district, Thanh Hoa province). The hotel is closed to the sea, amusement park and many other tourist attractions.
The 3-star standard Queen Hotel has 134 luxurious and comfortable rooms divided into 6 buildings with unique Egyptian architectural style combined with contemporary features, wood furniture which brings a luxury yet cosy and intimate space for visitors.
In particular, the Queen Hotel has 4 outdoor swimming pools, 2 restaurants together with various entertainment services and reasonable prices that will offer guests a great holiday.
5. Besides the resort area, Hai Tien beach also offers visitors many historical sites:
- To Hien Thanh temple, Hoang Bot ancient village
- Trang Quynh temple at Bot Thuong village (Hoang Loc district)
- Vinh Gia pagoda (Hoang Phuong), which is currently holding 54 letters of ordaining of the king dynasties.
- Temples of human gods and nature gods, such as Trieu Quang Phuc, Le Phung Hieu, Tran Khat Chan, Luong Dac Bang, Luong Huu Khanh, To Hien Thanh, etc.
- Revolutionary relics, such as Statues of Lao Quan Hoang Truong - where they shot down the US aircraft, Ba Cay dune, Ma Nhon dune – where the first revolution July-24th won the authority Hoang Hoa district, etc.
- From the beach, visitors can go upstream Ma river to visit Lach Hoi, Con Truong where there are forests with species of parrots, cross Nguyet Vien wharf, Ham Rong wharf to visit Ngoc Mountain, Rong Mountain, Tien Son cave, Kim Quy Lake, etc. While travelling by boat on Ma River, visitors can both listen to the traditional Thanh land folk song and enjoy specialities of the river.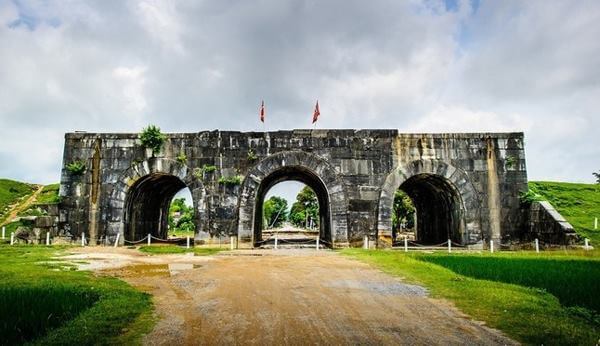 Coming to Hai Tien, visitors can discover many historical sites, culture and natural attractions of the land:
- The World Heritage of Thanh Ho (Vinh Loc);
- The historical area of Lam Kinh (Tho Xuan);
- Cam Luong fish stream (Cam Thuy);
- Ben En National Park (Nhu Thanh);
- Pu Luong Ecotourism Area (the paradise of thousands in Quan Hoa - Ba Thuoc);
- Dong Thuc Temple (Nga Son)
- Tien Son Ham Rong Cave (Thanh Hoa City) etc
6. Food
Coming to Hai Tien sea resort, besides bathing and enjoying the natural scenery, breathing fresh air, enjoying the specialities is another experience cannot be missed.
- Thanh Hoa fermented pork roll: Whenever mentioning Thanh Hoa, a speciality that cannot be mentioned is fermented pork roll (nem chua). Nem chua here is pretty good, sweet flavour with typical tastes that are distinctive from other places. Tourists when visit Hai Tien never forget to buy some nem chua to bring home as gifts for their loved ones.
- Tu Tru gai leaf sticky cake: Gai leaf sticky cake (banh gai) is a favourite cake of many villages in Vietnam. However, anyone has ever tried banh gai of Mia village, Tho Dien commune, Tho Xuan district, Thanh Hoa province can never forget its delicious taste. Banh gai Tu tru has been famous as a 'brand' and is an indispensable gift for those who once come to Thanh Hoa.
- Muc river barb fish: Visitors at Hai Tien beach surely cannot forget delicious dishes from barb fish such as a hot pot or deep-fried fish. Thanks to the diversified ecology, the food sources for this kind of fish are abundant, thus result in big and fat barb fish with delicious meat.
- Ha Tien shrimp sauce, which is considered as a must-have dish in daily meal of the locals, is a speciality of the people at Ha Trung – Thanh Hoa. The sauce is best served with boiled dishes. Another reason that you should try it is to understand the life of the poor farmers here better.
In addition to the above dishes that have made the reputation of Thanh Hoa, there are other dishes that are typical of this sandy and windy beach area's food culture.
- Spicy stir-fried flower clams: Clams are always tempting to diners because of its naturally sweet meat. The flower clams stir-fried with chilli meanwhile amaze people with its tasty and unforgettable spicy flavour.
- Fish salad: a not-to-be-missed dish when visiting Thanh Hoa
- Crab steamed with tamarind: steamed crab meat will make visitors enjoy the taste, enjoy the rich flavour of sour, salty, sweet plus the attractive aroma of citronella, garlic and the characteristic smell of crab – a delicious dish.
- Jellyfish salad: the jellyfish salad here is very crunchy, soft and cool with the taste that is unlike any other seafood you have tried. It is also useful for digestion.
Travelling to Hai Tien beach (Thanh Hoa province) is quite easy, right? With these tips and sharing, Queen Hotel hopes that you will have exciting and enjoyable experience at Hai Tien beach.